+353 864402110 - Taxi service from Shannon, Dublin and Cork Airport.
Shannon Airport transfer, Dublin Airport transfer, Cork Airport transfer.
Get quick quote and check how much you can save on taxi service!
Book your airport transfer on-line at discounted fare.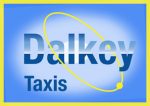 Order a taxi from South Dublin's premier taxi service, Dalkey Taxi. Open 24 hours, 7 days a week, call Dalkey Taxi on 01-285-7777 or book your taxi online!